The global music industry reaching new peaks - Everything you need to know
The music industry is constantly evolving and at the moment one could say it's making rather bullish moves, with the industry experiencing significant growth. As we operate in the context of the music industry, we find it valuable to provide our community with the most updated news on the global music industry's health and evolution perspectives. Therefore, let's have a better look together at the 'Global Music Report 2022' recently published by IFPI.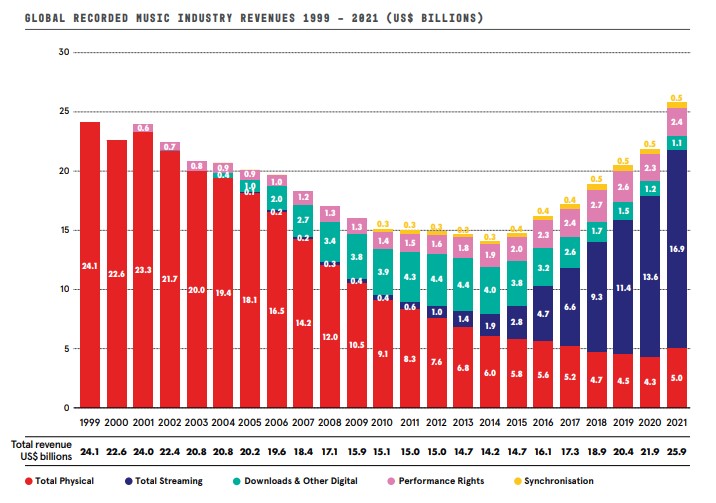 Figure 1: Global recorded music industry revenues 1999-2021 (US$ billions)
Source: IFPI, 2022
On 22nd of March, IFPI (International Federation of Phonographic Industry), the organisation that represents the interests of the recording industry worldwide, released their annual "Global Music Report". This in depth analysis is often used as the main reference source on the recorded music market worldwide and contains the most updated and reliable data on the recorded music industry performance each year.
This year's version of the report looks particularly promising as, according to IFPI, in 2021, recorded music revenues marked their seventh consecutive year of growth, reaching the level of US$25.9 billion, corresponding to an increase of 18.5% compared to 2020 and the highest revenue levels ever experienced by the recorded music global market in this millennium.
As in previous years, streaming – and particularly paid subscription streaming – represents a key driver in the overall growth, confirming itself as the dominant revenue format globally and accounting for 65% of recorded music revenues (up from 61.9% share experienced in 2020). While this growth is certainly moving into the right directions, we believe there is still more room for improvement. Just think about all the emerging markets where accessibility to streaming services is growing at a rapid rate. According to MIDiA Research & Anghami's recent study "Local Sounds, Global Culture", MENA (Middle East and North-Africa), Asia Pacific, Latin America and Rest of the World will account for 73% of global subscriber growth between 2020 and 2028, growing their subscriber share from 46% to 59% over the same period. Therefore, the best is yet to come!
Figure 2: Global recorded music revenues by segment in 2021
Source: IFPI, 2022
Nonetheless, in 2021 almost all formats (except digital downloads and other digital) experienced growth in the revenues they generated, particularly driven by post-pandemic recovery effects:
Physical: for the first time in 20 years, the physical market experienced growth, increasing by 16.1% to US$5 billion. The performance was driven, on one hand, by a post Covid-19 pandemic recovery in physical retail but also by the recent resurgence of interest in vinyl, which in 2021 continued its extraordinary growth in revenue (+51.3% over 2020).

Synchronisation: consisting in the use of recorded music in advertising, film, games and TV, thanks to the positive impact of the post-Covid recovery, experienced a growth rate of 22% in 2021, approaching the level of US$549.1 million.

Streaming: streaming continued its growth path in 2021, growing by 24.3% to US$16.9 billion(an increase of five percentage points with respect to the growth rate experienced in 2020). Paid streaming represented a significant driver, with revenues growing by 21.9% and accounting for 47.3% of the global market alone (US$12.3 billion). In 2021 we can count a total of 523 million of paid subscription accounts to music streaming platforms (Spotify, Apple Music, Amazon Music, Deezer, and so on). Following these market trends, it seems that paid music subscriptions are moving towards becoming a necessity good, rather luxury good.


Performance rights: also these rights – consisting in the use of recorded music by broadcasters and public venues – experienced a recovery from the pandemic-induced decline and grew 4% in 2021, reaching US$2.4 billion.

Downloads & other digital: as we previously mentioned, this was the only subset experiencing a decline, reinforcing ever further the shift from an ownership to an access-based model of music consumption. In fact, the revenues generated by downloads and other digital formats fell by 10.7% in 2021. However, it's interesting to note that, since NFTs are making big moves in the music industry with more artists and creators adapting the technology, the mindset towards ownership might change again. Time will tell!
We can definitely define 2021 as an astonishing year for the global recorded music industry. As mentioned by IFPI's CEO, Frances Moore, during their annual event held in London to discuss the report's numbers and key trends "[…] out of something like 60 or 70 countries we report on, every single market has experienced growth".
So if you are looking to start a journey investing in music, or if you just look to keep building out your portfolio, this report seems to give a good indication that the music industry certainly is a growing market. With the above in mind, we would like to conclude this blog post by mentioning a quote from Jay-Z's 'Reminder' track: "Men lie, women lie, numbers don't".
To read the entire report, please click on the following link.