Introducing the Investor Protection Programme
Today we are excited to announce the release of two brand new features that have been added to our platform with the aim to ease the investment experience of all the investors and give them more control over their bids in the final hours of an auction to assure getting a winning bid in. We're happy to introduce you to our: Investor Protection Programme (IPP) and 36-hours lock and outbidding feature.
In this article you are going to find anything you need to know about these new features and how they can benefit you as an ANote Music investor.
Investor Protection Programme (IPP):
Investing in music royalties, as is the case for every other type of investment, comes with certain risks to it. These risks are not always straightforward to identify, especially for more novice investors without a deep financial background. Our Investor Protection Programme (IPP) was created with the aim to help our investors' community to make well-informed investment decisions and alert them with clear and transparent information about any anomalies or relevant deviations that may occur when they place a buy or sell order in our secondary market.
By leveraging publicly available information about the catalogues - such as observed royalties, historical prices, number of shares in the market and the listing term - the ANote Music platform will now help you identify the main potential risks that one may incur when buying or selling shares of a specific catalogue, such as:
Low liquidity: situations when, as a result of limited trading activity or significant spread between buy and sell orders, the execution of your order might take longer than usual;

Price jumps: situations when, as a result of market conditions or investors behavior, the price you are trying to buy or sell at strongly deviates from recent trading prices;

Low profitability: situations when, as a result of market conditions or investors behavior, the price at which you are trying to buy at would result in a low or negative potential yield.
The release of our IPP feature also comes with an improved investment experience when placing a buy or sell order through the 'price view': when specifying the price at which you want to purchase or sell, the platform will automatically display the expected yield at that price, based on current market conditions.
Outbidding and 36 hours lock:
As more and more investors are joining the ANote Music platform, we've seen a drastic increase in participation of people placing bids for our different auctions. Auctions are one of the most exciting ways to buy shares into music catalogues when they first enter the ANote Music marketplace. As the list of participating investors grows, the risk of getting outbid by other investors increases and some investors may end up discovering only when the auction is concluded that their bids have not been executed.
To ensure that all participating investors have a greater control over their bids and enjoy a more pleasant investment experience, the improved outbidding functionality will ensure that investors will get notified anytime before the auction closes whenever their bid(s) are out of the winning range, giving them the opportunity to edit their bid and outbid other investors to still have a chance to end up with a winning-bid that will ensure them to the shares they wanted.
This feature will also lock in all winning bids during the final 36 hours of an auction. This means that if you have a winning bid, you won't be able to change or cancel your bid in the final hours of an auction. By locking in the winning bids, we reduce the risk of an auction not successfully completing as one (or more) big investors pull out at the last minute, making it so that the auction target no longer gets reached.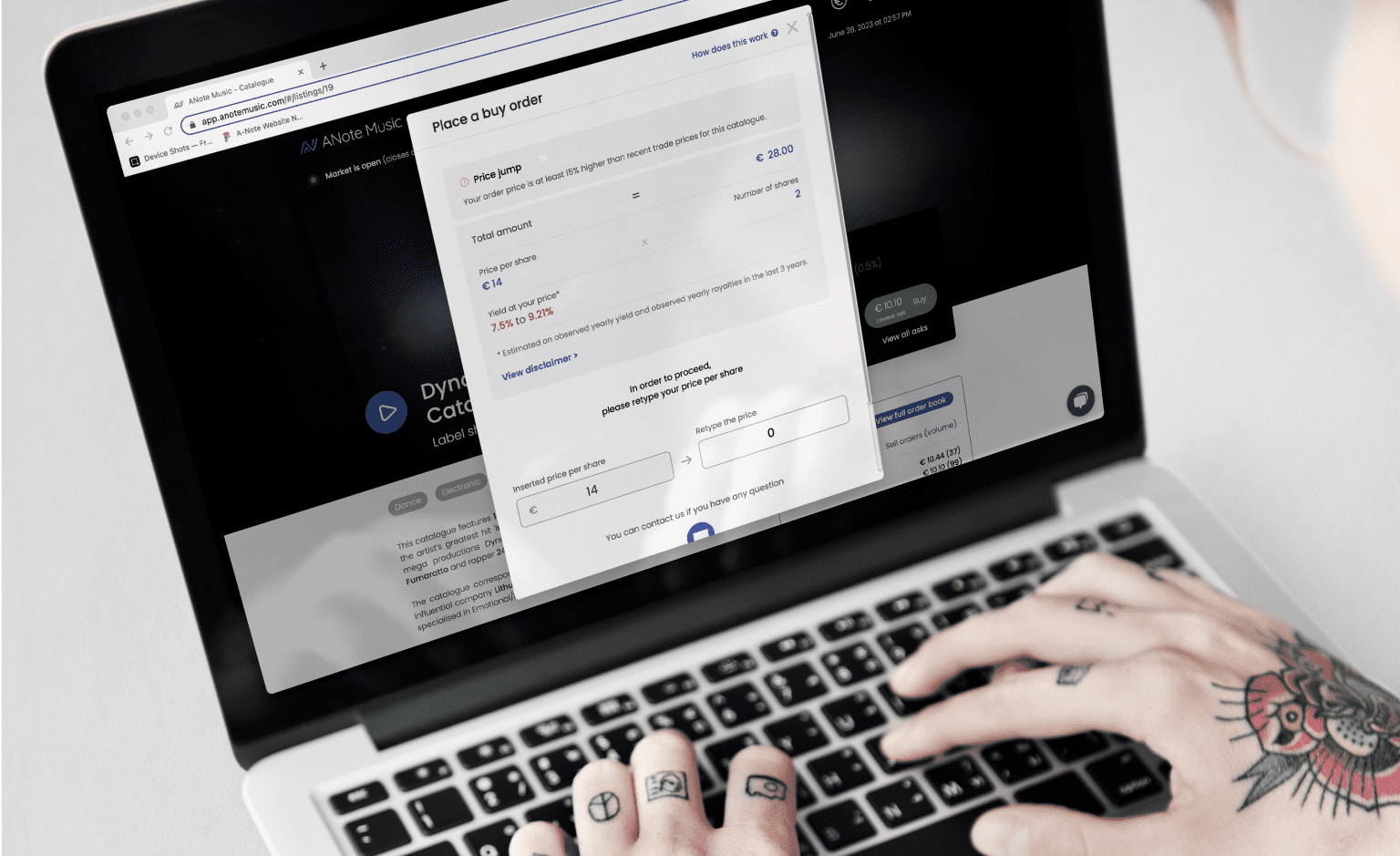 What's next?
Two new features have just been rolled out and our team is constantly at work to take your investment experience to the next level. In the meantime, if you have any other questions about these new features, we invite you to visit our Support Centre or contact us at support@anotemusic.com.
Stay tuned!