ANote Music Roadmap Update #2
In March of this year, we announced that ANote Music has extended its Algorand-based blockchain infrastructure to support a range of new features including platform mirroring, fractional NFT shares of catalogues, tokenization and co-listing shares. Like many Web3 companies this year, our development plans for all these new features and additions to the platform have slowed as a result of the ongoing bear market.
However, ANote Music's blockchain is additive to our core business, which has grown significantly over the last few months. Our listings have extended with 6 new catalogues this year, the amount of closed deals has grown to a total of +€20M and investors on our platform have continued to experience an average yearly return of just above 9%, with 35 payouts and over €170,000 in royalties distributed on the ANote Music platform in 2022 alone, despite the current market conditions. Further evidence that the value of music does not rise and fall with the stock or crypto markets.
Blockchain Development
Our team has made significant progress in our tokenisation strategy. Yet, launching a token in the current bear market doesn't feel right to us. We also caught wind about some very interesting Web3 developments that are expected to come on scene in early 2023 (both technological and regulatory).
Therefore, our team has decided to push back the initial launch of our token until market conditions are more favourable. With the best interest of our investors' community and ANote Music as a company in mind, we made the choice to slow down development in some areas that require further work before we are going to make a formal announcement about ANote Music's token launch. Below is an updated roadmap for ANote Music's blockchain development: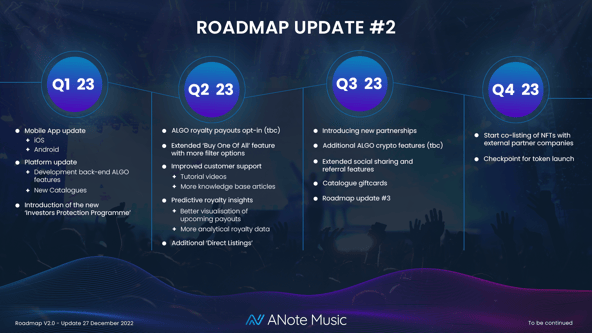 Mobile App
We'll kick off the new year by launching our improved mobile apps for iOS and for Android, which will become available for direct download from mid-January onwards. Despite the release of these new apps coming with a couple of weeks delay compared to what we announced in our earlier roadmap update, we can promise you it was worth the wait.
We wanted to make sure that everything was perfect for you to fully enjoy the new mobile experience and we'll be launching some important platform updates together with the deployment of these new apps. Of course, the journey will not stop here and our team is already working on creating new features and functionalities to further support the growth of our platform.
ALGO Royalty Payout Opt-in
Catalogue shareholders will be able to opt-in to receive royalty payouts in ALGO! This will be the first major deployment of a new functionality in our continuing integration with the Algorand blockchain.
Receiving royalty payments in ALGO means that Web3-native shareholders will have more flexibility in how they receive payments and transfer them between their wallets. Over the coming months we'll further elaborate on this feature, receiving royalties in ALGO is just the start!
Our next developments will extend the possibilities for investors to easily and quickly deploy their earned ALGO in other ANote Music catalogues. Democratising the music ecosystem is core to ANote Music's mission, and we're excited to utilise ALGO payments to make it easier for investors to manage how they receive their royalty payments, regardless of where they live.
This new feature will require the investors on the platform to actively opt-in to receive royalty payouts in ALGO. For everyone else who wishes to keep receiving royalty payouts in EURO, no specific action will be required and investors will be able to use the ANote Music platform as they are accustomed to. This also means if the web3 space is nothing for you, you'll be able to enjoy ANote Music in the exact same way as you have been enjoying it before.
A specific timing for when these new ALGO features will become public hasn't been decided yet. As often in the crypto world, one of the biggest and most time-consuming activities is to make sure that everything will be according to the applicable regulations, as well as the possibility to get a third party review of the soundness of our code base for your security. Our team is currently coordinating with all involved parties to make sure that we can roll out this new feature as soon as possible.
As 2023 progresses, we'll share more regularly updates about our roadmap and the new things you can expect from ANote Music. You can always stay up to date with the latest ANote Music news by signing up for our email newsletter and joining our Discord and Twitter.
Stay tuned!
ANote Music