Spotify, artist fundraising pick, ANote Music: one big applause and where we stand
What a better way to start this post than by giving a big round of applause to our music industry colleagues at Spotify? In the midst of this COVID-19 pandemic, Spotify came to aid rapidly, helping many players within the music scene by setting up the COVID-19 Music Relief project. Spotify now allows donations to organizations who help those most in need, and will match any donations made dollar for dollar, up to a collective total of $10 Million. In their efforts to help, Spotify also brought a new feature to their app.
We all know the famous "Artist Pick" headline on Spotify that has been allowing artists to pick and feature a song, album or playlist on the top of their pages. The Swedish company has now given a robust boost to this, launching this month the "Artist Fundraising Pick" that will give the ability to artists to receive direct "tips" and donations from fans for themselves or for a chosen charity.
During the coronavirus pandemic which has put on hold live touring and concerts, Spotify explained that this "first version" will hopefully give the chance to seriously affected artists to continue their artistic creations during the lockdown, by raising money from a worldwide network of fans.
"Since the onset of the COVID-19 pandemic, Spotify has engaged our partners across the industry to discuss how we can support artists and the creative community who have been deeply impacted by the effects of the devastating virus. Though streaming continues to play a key role in connecting creators with their fans, numerous other sources of revenue have been interrupted or stopped altogether by this crisis."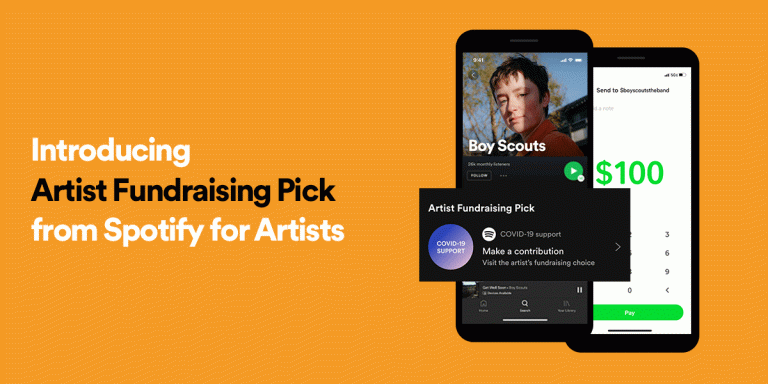 To facilitate the process, Spotify has currently partnered up with Cash App, GoFundMe, and PayPal.me. But artists don't necessarily have to use their fundraising pick for themselves. They can also link out their fans to any of the organizations that are part of its COVID-19 Music Relief project.
The scope of such a project is something we hope to be able to help in as well in the future. In the meanwhile, we are super excited to see this expansion of direct funding features in the music industry! The need for these type of initiatives has been lasting for long, and is coming to surface now more than ever, to support those artists and the creative community who have been deeply impacted by the effects of this devastating virus.
But what if we told you that there are other ways to help out artists and creatives who are now struggling, and do this in a way where both parties can be beneficial? While charity is an amazing thing, it is not only artists and creatives who have been impacted. Many of the music fans or certain types of investors and their families have been heavily impacted by these worldwide lockdowns. So while you wish to donate funds to your favorite artists, why not make it an investment where you can also benefit from yourself?
ANote Music is helping to connect artists with fans, in a way that artists can directly leverage their fans' support, but ALSO, while the fans themselves can earn money by doing so.
Through the ANote Music platform, fans can now get a direct exposure to music revenues and earn the royalties that are continuously generated by their favorite artists. Artists in exchange receive upfront cash to develop new music projects, and fight their way on top of pandemics, tranquilities, inspirational outbursts and artistic expressionism. We're setting up a collateral win-win situation , where both the music industry benefits from and where you personally can gain over time.
Having said that, ANote Music supports and empowers all actions that are meant to help sustain and grow the music industry. Overcoming these hard times will be achieved by togetherness, responsibility and care, and soon we'll be happy to get up and enjoy our favorite artists' concerts and festivals again.