ANote Music's Crescendo With Blockchain
In March 2022, ANote Music's CEO Marzio Schena announced ANote's roadmap for further blockchain adoption to a packed crowd during SXSW at the dedicated Algorand side event. In this blog post, we elaborate on each milestone in the roadmap.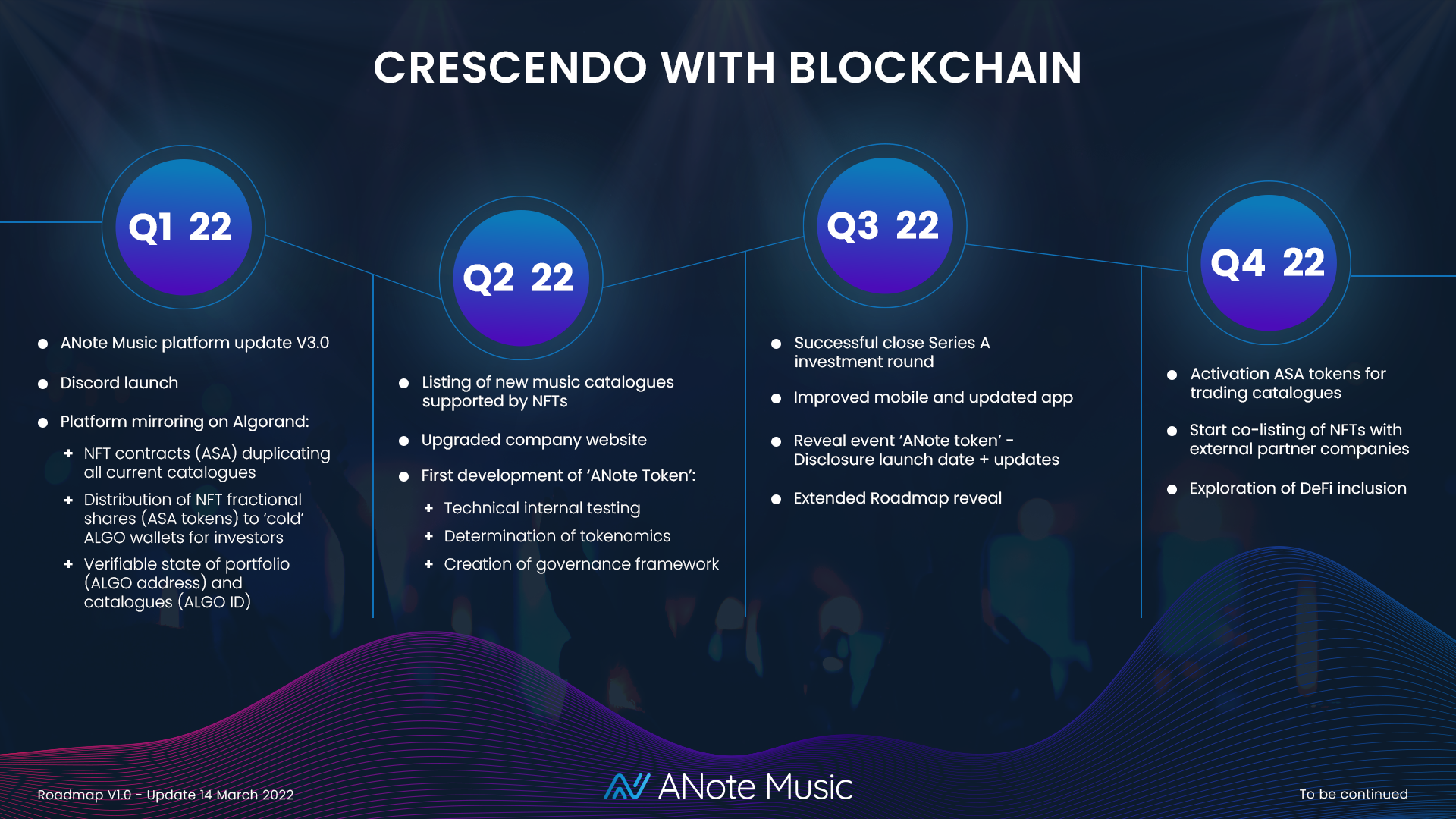 Figure 1: ANote Music 2022 Roadmap (Update 14 March 2022)
Source: ANote Music, 2022
We're very excited to continue the rapid pace of development that we've already seen in 2022. If you have any questions, comments, or ideas about this roadmap, do not hesitate to let us know in the ANote Discord: https://discord.gg/tJKapkXwQq
Also, make sure you're following ANote Music on Twitter to participate in future Twitter Spaces with guest speakers, our CEO and co-founder Marzio and the rest of the ANote team: https://twitter.com/anotemusic
Q1 2022
ANote Music platform update V3.0




(Completed)





In February we launched

ANote Music V3.0

,

an improved and updated version of our marketplace for investing in music royalties. After carefully analysing all the feedback we've been receiving since the platform's initial launch back in July 2020, our team has worked on a new design, to make your investment experience unique and as smooth as possible. If you missed the announcement, check it out here:

https://twitter.com/anotemusic/status/1495766530981781506?cxt=HHwWhICzoYXvg8IpAAAA



Discord launch




(Completed)





Chat with the ANote team, music creators or fellow investors and music fans in the official ANote Discord. Stay connected with latest updates, be the first to discover new announcements and have direct access to live support from the team and community: https://discord.gg/tJKapkXwQq

Platform mirroring on Algorand




(Completed)





In Q1, we mirrored all platform activity on the Algorand blockchain. In doing so we took the first steps in creating NFT contracts for all the catalogues on our platform. At the same time, we distributed NFT fractional shares (ASA tokens) to 'cold' ALGO wallets, as a mirroring of the current shares to music catalogues on our platform. Why is this important?

The first reason for this is security and transparency. Recording all transactions on the blockchain allows for an easily auditable historical record of ownership, including the date and time at which a share in a catalogue changed hands. This means that from this point on, the state of any portfolio (ALGO address) and catalogues (ALGO IDs) can be verified using AlgoExpolorer.

Although we had previously been recording this data on a private, centralised blockchain, we decided to move this to the Algorand blockchain for greater transparency, higher efficiency, and future proofing our technology.

Further along our roadmap (and beyond!), we are exploring ways to bring more utility and portability to our tokenised catalogue shares… see Q4 for more information!
Q2 2022
Listing of new catalogues supported by NFTs




(Completed)





On April 20th, we started the auction for a new music catalogue; our first listing fully launched on the Algorand blockchain. For this listing we've partnered with Danish record label owner and publisher Sundance Music, who listed 5% of their catalogue on ANote to our community of investors and music fans. Click here to learn more.

This incredible Jazz catalogue with many international successes in it, is just the first of a series of new investment opportunities that can be expected on the ANote Music platform over the months to come.

Upgraded company website




(Completed... ahead of schedule)





Blink and you'll miss it! Our team has been working around the clock upgrading all aspects of ANote. First came the platform, then the extension of our blockchain integration, and now the website! Thanks to our team for being the best in the business. If you are reading this, you are probably already exploring the new website, but in case you aren't, check out the new website here.

First development of the 'ANote Token'




(In progress)





We can't share much yet – you'll have to wait for the reveal event in Q3 for all of the details – but strategy, research and development is underway for an ANote Token to launch on the Algorand platform.

What we can say is that there is no need to wait until the token arrives before joining the party. Of course, we would never forget our current investors community, and we will make sure to reward all those who are holding ANote catalogue shares. The longer and the more shares you own, and the more active you are on our Discord, the more you have to gain on token launch day… We've already said too much! ;-)

Please note: News of the token launch will only get published on the ANote Website and official Twitter and Discord channels when it is official. We will NOT directly message anyone about it beforehand. Check official company pages for information and be careful of scammers. Reach out to our team on support@anotemusic.com or on one of the above mentioned channels in case you are ever in doubt about something's legitimity.
Q3 2022
Successful close of Series A investment round




(In progress)



All of this development is not cheap and there is certainly a whole lot of more progress to be achieved! We're excited to bring on board

new partners and investors

through our Series A round to keep growing our team and company. With a high focus and priority to serve our community in the best way possible, while at the same time keep expanding our services in a qualitative way, investments are highly important to sustain this growth. Stay tuned for more announcements.



Improve mobile and updated app




(In progress)





You thought we were done after the platform updates in Q1 and the website in Q2? Not yet!

Our team is already working on the next big project, improving the mobile web interface and polish our dedicated iOS and Android apps. The first updates are expected to come in Q3 for all of our investors who like to take their portfolio on-the-go.

Reveal event 'ANote token'




(Date to be announced)





If we say too much now, there won't be much to share at our upcoming reveal event! During this milestone event, we'll announce all the necessary information revolving around the upcoming token launch. We'll be sharing the launch date, more information about the utility, Airdrops and let you know how you can get your hands on the token. Stay tuned!

Extended Roadmap reveal




(Date to be announced)





There's a lot more to come beyond what is about to happen in 2022 already… Following the token reveal event, we'll be sharing further steps on our roadmap towards making music even more valuable for even more people.
Q4 2022
Activate ASA token for trading catalogues


(In progress)



The ANote token will be integrated deeper with the ANote Music platform services by allowing people to have a custody wallet of tokens on the platform. Music fans and investors on our platform will be able to opt-in for trading music catalogue NFTs through ASA tokens.

It is important to note that this will be optional! As an investor you will be able to opt-in for the solution that is best fitted to your needs. You will be able to keep your shares in your ANote wallet, almost exactly as everything functions now. We will have more details as this milestone approaches.

Start co-listing NFTs with external partner companies




(In progress)





We have been thrilled with the innovation and passion that is occurring in the Web3 music space. As a company with the legal expertise to follow security regulations and the technical expertise to participate in Web3, ANote is uniquely positioned to provide value to a wide range of artists, catalogue owners, and other Web3 companies. That's why we don't want to limit participation to the incredible music NFT assets to our platform alone.

With a focus on strong and strategic partnerships, we'll start co-listing portions of our catalogue listings with external (financial) players. This will bring even more traction and visibility to our innovative marketplace and further democratise the accessibility to the music industry.

Exploration of DeFi inclusion




(In progress)

We know that we might be repeating ourselves, but ANote's mission is to democratise access to music royalties and make the entire process a lot more transparent. As DeFi becomes more commonplace and a greater number of people have access to global markets, we are thrilled to explore the opportunity of bringing music investments to the global stage.
Those are all the roadmap updates we can share with you for now. As you could understand from this blog post, Discord and Twitter are the best places if you want to stay tuned about any upcoming announcements. So, if you are not following us yet, come join the community!
Of course, you can also subscribe to our newsletter and get the important updates straight into your inbox.
Stay tuned!
ANote Music