Here is the ANote Music mobile app! A 'birthday gift' to celebrate our first full year on the market
The ANote Music platform launched officially to the general public on July 28, 2020. What an incredible first twelve months it has been! We couldn't have done it without the support of our ever-growing investors' and music fans' community. As a small "birthday gift" from us to all of you, we are officially launching our mobile app today.
Exactly one year ago, we launched Europe's first true marketplace for investing in music royalties, with the clear aim to open up market access to this alternative asset and unite investors and music enthusiasts with publishers, artists, record labels and music catalogues across one platform. 366 Days later, the ANote Music platform is counting a community of over 7000 investors and music fans, eager to own a piece of their favorite songs and to diversify their investment portfolio with music assets.
Our mission has always been (and still is) to democratize funding opportunities for the music industry, making the entire market more transparent and traceable. Thanks to the support and trust from our early partners, we've been able to prove that a solution like ours provides a win-win situation for industry players, as well as retail investors and music fans. More than €660,000 was raised and committed by our community for the music catalogues published. In return, ANote Music has been able to collect and distribute over €39,000 back in royalties to those who invested, which equals to an average return of 7.5% in just one year. As we write, more royalty distributions are being planned and prepared, however, always preferring being the utmost precise, we shall not include them in this one-year-recap, as they will be distributed within the next weeks.
We have listed catalogues from Italy, Poland and France, while we have investors signing up from all around the world, with 76 different nationalities being active on the platform. Our business development team has been leading negotiations for catalogue transfers in offline deals worth over €105 Million and we are continuously working on onboarding new catalogues from other markets such as the UK, Germany, Spain, Belgium and The Netherlands. In partnership with Artist First, ANote Music has become the first company in the world to publicly list Image Rights, allowing fans to share in the success of live performances.
The team has been growing from 4 full-time employees to a dynamic squad of 21 dedicated professionals, a diverse team consisting of 11 different nationalities, and a solid group of advisors for international and local markets. Our developers have been working non-stop on improving and extending the quality of our platform and making your 'user experience' better on each visit. In the run of this year, we've integrated Algorand's solution as another step towards more transparency and traceability for the people on our platform. With this update, we also got ready to welcome music NFTs to get listed on our platform, which yet provides another opportunity for artists and music rights owners.
The proprietary marketplace developed by ANote Music has been praised and has received a lot of interest, coming from all different industries. ANote Music has gained a great amount of visibility thanks to being featured in some of the world's leading media outlets, such as Forbes, Nasdaq, RollingStone, MusicAlly, Wired, MoneyWeek, International Adviser, Kyodo News and many more. Our technology has been turned into a 'White Label' solution that is now being implicated in 4 different global projects, with the partnership with Japan's Royalty Bank being the main highlight.
Last, but not least, we've been listening to your customers' feedback and the many requests for having a mobile app. We've been developing our mobile app thoroughly and with the client always in mind, so we are extremely proud to officially launch today after months of severe BETA-testing. The app is available in the Google Play Store for Android and the App Store for iOS devices. With our ANote Music mobile app, you'll never have to miss an investment opportunity, as you'll be able to read the latest news and catalogue updates on the go, while seamlessly navigating through the entire platform.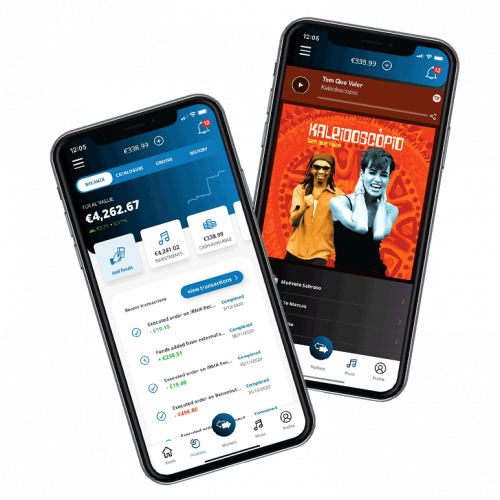 Download the app for free today and log in to have full access to your portfolio straight from your pocket. If you haven't created an account yet, you can easily do so with just a few simple clicks on your smartphone.
The first year on the market has been an incredible ride, yet it has just been the start of something much bigger. There are many more opportunities in the pipeline and new features/projects that we look forward to bringing to you in the coming year. While it's general practice to send 'birthday wishes' to the one celebrating, we would like to turn it around and direct those wishes to you. The success that our team has been experiencing over the past months wouldn't be the same without the support of the entire ANote Music ecosystem.
From the bottom of our hearts, we wish to thank all those early adopters who have shown support for our project from the pre-order phase onwards, every single person who registered and created an account (whether you have already become an active investor or not) and all the media outlets who wrote about us and who were happy to share our news and updates. We also wish to thank IRMA Records, Tomasz Lubert, Piotr Konca, Benvenuto Publishing, Artur Gadowksi, EL Éditions, Zero Assoluto and Le Vibrazioni for the trust they gave us by listing a portion of their music catalogue on our platform.
Stay tuned!